14 Ago

Gibbon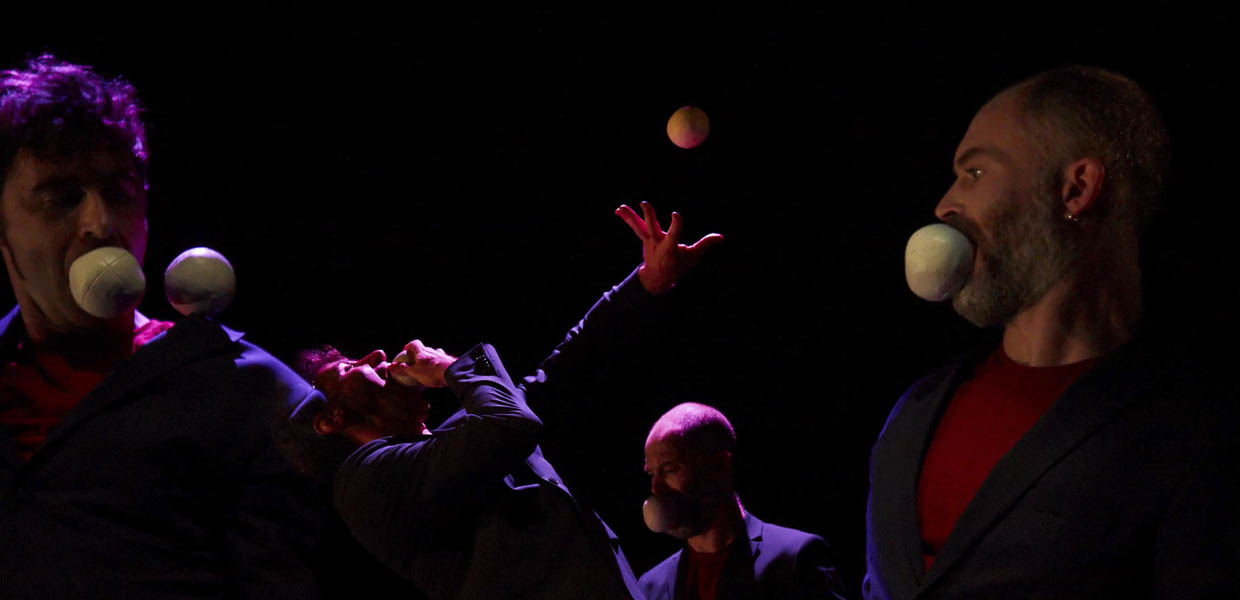 Chris e Jose si esibiscono entrambi in produzioni della compagnia Gandini Juggling, vincitrice del premio Olivier.
Con una semplice drammaturgia, Chris e Jose mostrano il processo di creazione di uno spettacolo di un duo. Tra patterns ipnotici di giocoleria, tra i fallimenti e i successi, spruzzano leggerezza su comuni atteggiamenti relazionali, in genere mal giudicati. La visione di Gibbon va a toccare quella parte bambina che nella vita sociale non ci si permette di liberare e di esprimere. E' uno spettacolo che regala, ad adulti e piccini, un momento di spensieratezza, assurdità e risate mentre si assaporano virtuosismi di altissima tecnica e una forte alchimia performativa tra i due artisti.
Domenica
17
Settembre
h.18.45
tipo: spettacolo
compagnia: CHRIS PATFIELD&JOSE TRIGUERO
luogo: Chapiteau Instabile
durata: 55'
età: per tutti
costo: 
genere: circo contemporaneo, giocoleria
Regia: Christopher Patfield and Jose Triguero
Performers: Christopher Patfield and Jose Triguero
Occhio Esterno: Flick Ferdinando
Co-produzione: Gandini Juggling
Musica: Benji Bouton Kevin Toublant
Design Luci: Guy Dickens
Fotografi: Stanislav Briza (outdoors), Andy Phillipson (indoors).


Con il supporto di: Gandini Juggling, The Point – Eastleigh, Dance Base – Edinburgh, Lab Time2 (NCCA

and Esmee Fairbairn Foundation), Jackson's Lane – London, Déda – Derby, Sea Change Arts – Great Yarmouth, Maison de Jonglage – Paris, Resolution 2018, The Place – London.
Gibbon è una creazione di Patfield & Triguero
, con Flick Ferdinando come occhio esterno, con il supporto artistico della compagnia Gandini Juggling e la musica di Benji Bouton e Kevin Toublant. Il light design di Guy Dickens arricchisce questa produzione comica e poetica.
Patfield ha conseguito una laurea presso l'NCCA, specializzandosi in corda molle e giocoleria, ha poi conseguito un master alla Danshogskolan di Stoccolma. Chris continua tutt'ora a insegnare giocoleria all'NCCA ed è stato in tournée come performer con No Fit State e Stumble Dance Circus. Si è esibito come attore/artista di circo e in produzioni alla Royal Opera House e Glyndbourne. Triguero ha ottenuto una laurea con lode dalla NCCA nel 2010 dopo aver vinto il Deutsche Bank Pyramid Award for Circus. È uno degli insegnanti principali dell'NCCA. Ha frequentato numerosi laboratori di coreografia, clown contemporaneo e teatro con artisti del calibro di Peeping Tom, Anton Lachky, Spymonkey e Thomas Prattki. Nel 2016 Triguero è stato il coreografo di "Millions of Years", una collaborazione tra la English National Opera e Gandini Juggling conclusa con una performance al British Museum. Di recente ha creato e diretto un lungometraggio intitolato Cul de Sac, finanziato da ACE e presentato in anteprima al Jackson's Lane nel 2017.